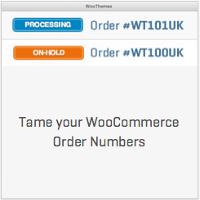 Today marks the release of the WooCommerce Sequential Order Numbers "Pro" plugin, the first of many practical and useful WooCommerce extensions to be released by Fox Run Software. If you don't like the essentially random order numbers that WooCommerce uses, and you perhaps want to customize them a bit as well, then this plugin could be a good fit for you. The Pro version of the plugin builds upon the limited functionality of the free version's simple incrementing order numbers by offering the following additional features:
Start your order numbers at any number (rather than just 1)
Set a custom order number prefix
Set a custom order number suffix
Additionally you can naturally expect faster/better support with the paid "Pro" version. The free version will of course remain available for those who don't require the extra features included in the Pro version, and those with the free version installed can easily upgrade to the Pro by simply installing Pro, deactivating the free one, and activating the Pro one. Your order numbers will pick right back up where they left off, or you can continue from a higher number, and you can add your custom prefix/suffix.
Visit the WooCommerce shop to read the full documentation and find this and many more great WooCommerce plugins: WooCommerce Sequential Order Number Pro