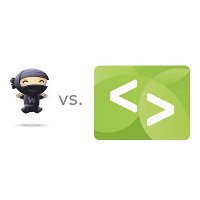 If you're considering ECommerce options in general, and especially WordPress ECommerce in particular, you may find yourself asking whether WooCommerce or Jigoshop is the best fit for your online storefront. Maybe these are the only two ECommerce solutions you're considering, and just maybe you're not even interested in reading a lengthy article comparing and contrasting and delving into the minutia of what are still two very similar options. If you're merely looking for an anonymous opinion, or just the sort of person who likes to know the ending ahead of time, well, I'll save the suspense:
Just Use WooCommerce.
If you want some detailed information on all major eCommerce plugins, read Sell with WP's WordPress eCommerce Platforms Guide.
There, now that we have that out of the way, read on if you're curious to hear my reasoning.
Update 6/25/2012 – Though I've done my best to update bits and pieces of this review since I originally wrote it, it really requires a fairly major overhaul to be brought fully up to date. Since first writing it, I've joined the WooCommerce developers community and released a number of extensions and worked on client projects.
I still stand by my original assessment and continue to use WooCommerce for my own projects and recommend it for clients, but both solutions have come a long way since I wrote the original article. I encourage you to take a look at both after reading through my review. Also see Dan Thornton of Jigoshop's comment below, who was kind enough to stop by and offer a review of the review, which I have used to update and improve this article with.
My Goal
Despite my absolute-statement introduction, I want you to know that I think both WooCommerce and Jigoshop are great ECommerce options. I hope they are both successful, which I think will make both of them strive to be better than they would without one another. My goal is not to cover the morality of forking open source projects, or of hiring competitors engineers, which has already been covered well. My goal is to compare WooCommerce and Jigoshop on their current merits and maybe draw some conclusions about their future success. I want to apologize to either team if I get any features wrong, or misrepresent either in this article, I did my best to cover them fairly with all the information at my disposal.
Finally, the requisite disclaimer: I use WooCommerce for foxrunsoftware.net (now skyverge.com), so I'm bound to be biased, though I did my best to stay balanced. Indeed before launching this site I first successfully implemented it in Jigoshop, before trying WooCommerce and settling on them. Also, while this site does participate in the WooCommerce affiliate program, and despite our conservative affiliate programs policy no affiliate links appear within this article in order to maintain an even higher standard for this piece.
Table of Contents
I know that this article is way longer than it should be. Way, way longer, but I felt it was necessary to fully examine the differences and similarities between Jigoshop and WooCommerce. I justify the length by giving the answer at the start of the article, and by providing the following table of contents so that you can skip to a particular part that interests you, if you prefer:
Feature Set
The feature set is largely similar between Jigoshop and WooCommerce; not surprising considering the lineage and the fact that Jigoshop's original developer now works for Woo.
General Features
Both have largely similar dashboard widgets, though WooCommerce puts them in the main WordPress dashboard by default which I find more convenient and prefer over Jigoshop's dedicated dashboard. When I log into my WordPress admin I like to see my ECommerce metrics front-and-center.
Both solutions offer the more important options you'd expect from a serious ecommerce offering: redirecting the user to the cart/checkout after adding an item, allowing guest purchases/registration from the checkout page, forcing SSL on checkout, coupons, inventory management, tax rules (WooCommerce allows local tax rates based on postal codes, not sure when you need this but if you do it's something to consider). Both integrate with Google Analytics and allow ECommerce tracking.
Both have roughly the same options for defining the special pages: cart, checkout, My Account, etc.
As far as shipping, WooCommerce comes with Flat Rate, International Delivery Flat Rate, Free Shipping, Local Delivery, and Local Pickup. Jigoshop provides Flat Rate, Free Shipping, and now Local Pickup.
For payment gateways WooCommerce offers Direct Bank Transfer, Cheque, PayPal Standard and Cash on Delivery by default. Jigoshop comes with Bank Transfer, Cheque, PayPal Standard, Cash on Delivery, DIBS FlexWin and Skrill (which are both available as $50 extensions for WooCommerce)
In general, the WooCommerce configuration screens seem to offer more options, while also appearing more user friendly, for instance by breaking the shipping and payment gateway configurations up as shown:
Jigoshop Shipping Settings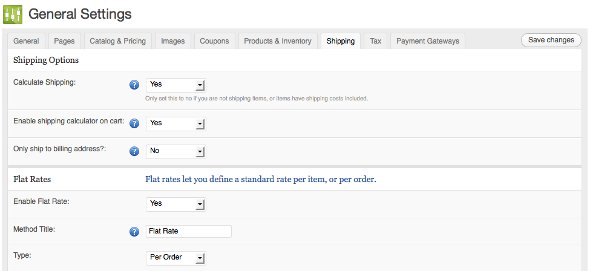 WooCommerce Shipping Settings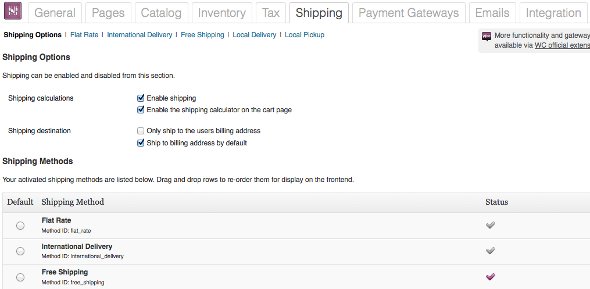 WooCommerce includes HTML emails by default, which was a major selling point for me. This can be added to Jigoshop with a $19 extension.
WooCommerce has a more detailed reporting section, which goes beyond what is displayed in the dashboard, or what Jigoshop seems to offer. Sales can be viewed by day, month, product, top seller and top earner, along with totals and averages. Customer signups, and sales by customer and by guest can be viewed: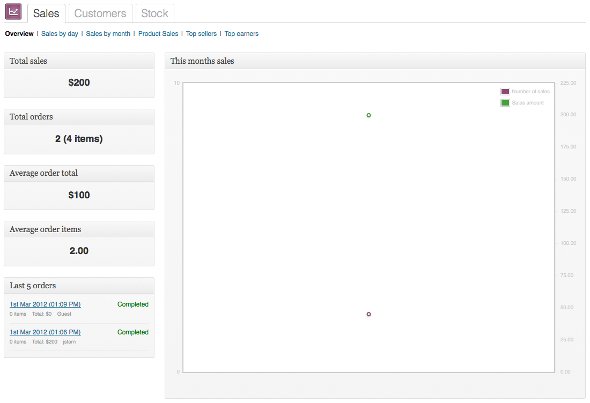 The view orders/add orders functionality seems largely identical between the two, besides some UI differences.
The coupon management is broken out into its own subsection under WooCommerce which seems more intuitive than finding it under Settings in Jigoshop. The coupon options are also more powerful within WooCommerce, allowing you to: apply the coupon before tax, exclude products by id, enable free shipping, or define a usage limit (how many times it can be used before being void). Both allow an expiry date, Jigoshop also allows a start date. Both allow coupon types of: cart discount, cart % discount, product discount and product % discount.
It's difficult to summarize the above sort of comparison down into tabular format, but I'll do my best:
Jigoshop
WooCommerce
Dashboard
✔
✔ *
Redirect User to Cart
✔
✔
Guest Purchase
✔
✔
Registration from Checkout
✔
✔
Force SSL on Checkout
✔
✔
Coupons
✔
✔ *
Inventory Management
✔
✔
Tax Rules
✔
✔ *
GA eCommerce
✔
✔
HTML Emails
(available as $19 extension)
✔
Detailed Reporting
✔
✔ * Indicates an edge
Shipping Options
| | Jigoshop | WooCommerce |
| --- | --- | --- |
| Flat Rate | ✔ | ✔ |
| International Flat Rate | | ✔ |
| Free Shipping | ✔ | ✔ |
| Local Delivery | | ✔ |
| Local Pickup | ✔ | ✔ |
Payment Options
| | Jigoshop | WooCommerce |
| --- | --- | --- |
| Direct Bank Transfer | ✔ | ✔ |
| Cheque | ✔ | ✔ |
| PayPal Standard | ✔ | ✔ |
| Cash on Delivery | ✔ | ✔ |
| DIBS FlexWin | ✔ | (available as $50 extension) |
| Skrill | ✔ | (available as $50 extension) |
The overall winner: WooCommerce for its combination of more intuitive, generally more flexible controls, and slightly larger feature set.
Product Management
Clearly in any ECommerce solution its handling of products is going to be front-and-center, all the rest exists to serve the products, so lets see how our contenders stack up in this department. Both WooCommerce and Jigoshop offer the standard expected product types: Simple, Variable (Configurable), Grouped, Downloadable, Virtual and External/Affiliate. Products are configured in a similar manner in each, though I would argue WooCommerce has a more attractive, more intuitive interface, that was easier for me to configure products in as a first-time user.
WooCommerce offers Up-Sell/Cross-Sell functionality as part of the core offering, which is certainly nice to have. With Jigoshop meanwhile this can be added with a $19 extension.
I decided the best way to compare functionality here would be to attempt to setup products in a couple of common, though slightly complex configurations:
Configurable Product – A shirt with available in large red, large blue, large green for $20, in medium red, medium blue, medium green for $15, and small blue for $10.
Physical Grouped Product – A computer with optional tower, mouse and keyboard
Virtual Grouped Product – A virtual grouped product consisting of a downloadable software piece, and optional installation service
Jigoshop
I created the configurable attributes easily, but found the creation of the product variations to be a little pickier than I expected. Be sure to follow their help page to the letter, the main stumbling blocks I had were:
the configurable attribute must be a multiselect
after assigning the attributes you must click 'Save Draft', 'Publish', or 'Update' before you can create the variations
My configurable shirt worked as expected, my one complaint is on the frontend, where it seems to be awkward for the user to reconfigure a product. For instance, if you select first a size, and then a color, you will need to select 'Choose an option…' in the size picker before then being able to choose a different size. I am a believer that to be successful an ecommerce site must have extremely low barriers to configuring and purchasing a product, and it would clearly be better if the potential could just choose a new size. Granted, this may very well just be a result of my using the free 3rd party theme; more on this later.
Configuring the physical grouped product included a bit of an annoyance: the parent product must be publicly published before you can assign child products to it, saving it as a draft, or publishing it privately does not seem to work. You can set its product visibility to 'hidden' from the 'advanced' tab, so at least it doesn't appear on your site until you're ready. I tried, I really did, but I couldn't get grouped products to work, the child products just didn't show up correctly on the parent page. I am willing to assume the blame on this one, I must have been doing something wrong, or maybe it was an issue with the Skeleton theme, but the fact is I couldn't get this working properly despite the fact that the Jigoshop demo site has a working example.
Jigoshop's own documentation state that downloadable products can't be part of a Grouped product. No one's documentation is ever 100% correct or up to date, so I gave this a try regardless, and I did seem to be able to group both a downloadable and virtual product together without the admin complaining. Naturally though I had the same issue on the frontend as with the physical grouped products.
WooCommerce
Setting up the configurable attributes worked the same as in Jigoshop. When creating the variable product, you do need to 'Save Draft', 'Publish' or 'Update' the product after adding the attributes but before being able to configure the variations. Also, I was unable to get the variations to work on the frontend until after I published the product. WooCommerce allows you to set a 'default configuration' which is a nice feature. The frontend configuration behavior worked a lot more smoothly for the Wootique theme than it did for the Jigoshop Skeleton, namely as an indecisive customer I could reconfigure the product with ease and alacrity.
The Physical Grouped product was configured generally in a similar manner to Jigoshop, but the frontend functioned correctly. Also, saving the products as Drafts worked, for testing/previewing.
The Virtual Grouped product test worked perfectly in WooCommerce.
The Score
Jigoshop
WooCommerce
Configurable Product
Pass
Pass
Physical Grouped Product
Unknown*
Pass
Virtual Grouped Product
Unknown*
Pass
The Winner?
Tie
It's been long enough at this point since I last tried this test that I've marked these as Unknown. I have no reason to believe these product configurations would not work with Jigoshop, I just have yet to re-try them.
Extending
Themes
Jigoshop currently offers 7 themes developed in-house each priced simply at $40. There are 21 3rd party themes ranging from the free (Skeleton) to $99 listed on the site. Jigoshop offers a club with a now simplified one-time fee of $500, which may sound expensive but when you consider it replaces a previously monthly charge, grants you access to (at time of writing) $2,000 worth of themes and extensions, support, as well as apparently all future (non-3rd party) themes and extensions, it could be an outstanding deal if you're planning on going with Jigoshop for your shop.
Thanks to the larger number of 3rd party themes listed on the Jigoshop site, they have now taken the lead in number of themes available, which is an upset from when this article was first authored. You can now pick from 10 full themes including the free Wootique, and 11 child themes based on other existing WooTheme themes. Full themes standard pricing is $70, and includes an additional 2 themes, developer pricing (includes photoshop files) is $150 and includes 3 'bonus' themes. Then there's something called 'app themes' which is $100-200 for a single theme with additional functionality (e.g. real estate) whatever that means. The child themes cost $20 each on top of the purchase price of the parent theme. WooCommerce offers subscription clubs as well, with the 'standard' subscription for a $125 setup fee and $20 monthly fee, or the more expensive Developer club subscription for an initial $200 plus $25 monthly giving you access to all themes though not all extensions.
Between the variable pricing from Jigoshop, the 'bonus' themes and child themes from WooCommerce, not to mention the various club options, it's difficult to directly compare pricing between them. When all is said-and-done prices seem fairly equivalent, with the edge going to Jigoshop, so it probably comes down more to who's themes you prefer, though you'll probably want to have your theme customized regardless.
Free Themes
I believe the free themes deserve special mention since I am very much a try-before-you buy kind of guy. The free Wootique theme hands-down offers a lot more functionality and attractiveness out of the box than the 3rd party free Skeleton theme for Jigoshop (I use a modified version of Wootique for this very blog!). Granted I was able to make Skeleton functional and relatively attractive (even with my limited design skills) but it took a lot more effort and hours than what I achieved with Wootique.
Unmodified Skeleton Theme Shop Page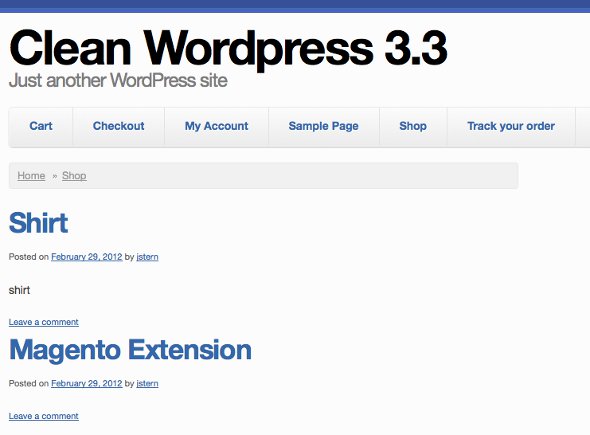 Unmodified Wootique Theme Shop Page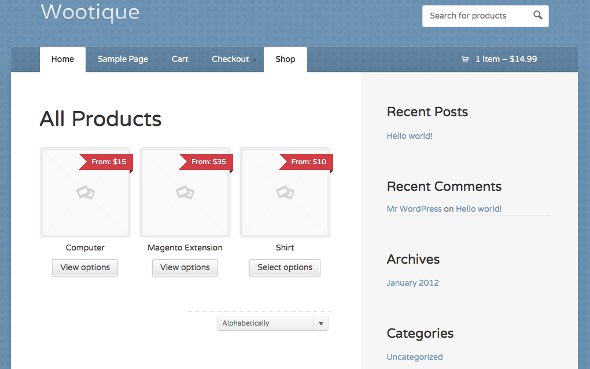 WooFramework
The themes discussion wouldn't be complete without at least a mention of WooFramework. Covering WooFramework is beyond the scope of this article, and besides WooCommerce does a good job of detailing it. I guess including the framework could be a good or bad thing depending on your perspective. Bad if it adds a whole bunch of configuration options that you don't have any need for, or if it conflicts with some extensions you like. I found it to be a positive because while I don't use all of the framework, it did allow me to uninstall a couple of other extensions due to all the functionality it provides. At the same time, I still use WP SEO rather than the WooFramework SEO options, due to the richer control WP SEO affords, and luckily WooFramework is compatible with it and the other popular SEO extensions.
Other Frameworks
Both WooCommerce and Jigoshop support a number of 3rd party theme frameworks for free:
| | Jigoshop | WooCommerce |
| --- | --- | --- |
| Genesis Connect | Yes | Yes |
| Headway Connect | Yes | No |
| Pagelines | Yes | Yes |
Theme Winner?
Jigoshop for number of themes and price, WooCommerce gets a nod for a fully-functional official free theme.
Extensions
Both Jigoshop and WooCommerce offer 'official' in-house as well as 3rd party extensions to add features to the core ecommerce suite. When this article was originally written Jigoshop had 24 paid extensions, ten 3rd party extensions and 11 free 3rd party extensions for a total of 45 extensions (update: since this article was originally written Jigoshop has added a number of extensions, but it's not easy for me to get a total count of what they have available). WooCommerce currently clocks in with around 124 official extensions, 3 of which are free, as well as 22 third party extensions, most of which are free. There is a decent amount of overlap between Jigoshop and WooCommerce, with more options in the WooCommerce simply because they have more extensions available. Writing additional payment gateways is an obvious and easy way to add value to an ecommerce solution, so the bulk of extensions are of the payment persuasion. Rather than covering all extensions (this article is too long as it is) I will highlight what I consider to be some of the more interesting extensions between the two to give you an idea of the offerings.
Payment Gateways
Extension
Jigoshop
WooCommerce
Authorize.net DPM
$49*
$50
Authorize.net AIM
$49*
$50
Stripe
$49
$50
Google Checkout
$49
$50
PayPal Pro
$49
$50
PayPal Digital Goods
$12
$50
Braintree
$50
* It wasn't clear to me whether this was the DPM, AIM, both or neither
WooCommerce offers another roughly 53 gateways (and Jigoshop another 20), so if you don't see your particular favorite, take a look at the WooCommerce extensions page or Jigoshop extensions page. Deserving special mention, WooCommerce supports a large number of gateways for different countries, so if you live/do business in Brazil, Finland, New Zealand, the UK, Australia, Portugal or Poland, among others, this may be something to consider, though since the initial writing of this article Jigoshop has nearly doubled their payment gateway offerings including a number of international gateways. Also of course, you can always implement a custom gateway, or hire someone to create one, for either WooCommerce or Jigoshop.
Shipping Methods
| Extension | Jigoshop | WooCommerce |
| --- | --- | --- |
| USPS Shipping | $49 | $50 |
| UPS | $49 | $50 |
| FedEx | $49 | $50 |
Additionally, both have a number of non-US shipping plugins.
General Extensions
Note that the following list does not represent an endorsement or encouragement to try any of the following extensions, this is simply a list of the more interesting-looking extensions available to each at the moment.
| Extension | Jigoshop | WooCommerce |
| --- | --- | --- |
| Sell via facebook | $10 | $30 |
| Order/Customer CSV Export | $30 | $30 |
| CSV Product Import | $49 | $50 |
| Clickatell SMS Customer Notifications | | $15 |
| mediaburst SMS Notifications | $20 | $30 |
| WPEC Migration | | $30 |
| Jigoshop to WooCommerce | | $15 |
| Import from ZenCart | free | |
| Google Product Feed | $40 | $50 |
| Store Credit | | $30 |
| Newsletter Subscription (Mailchimp) | | $30 |
| MailChimp Integration | $12 | (basic integration included in WooFramework) |
| Up-Sells/Cross-Sells | $19 | (part of WooCommerce core) |
| HTML Emails | $19 | (part of WooCommerce core) |
| Wish List | $15 | |
| FreshBooks Integration | | $50 |
| QuickBooks Integration | $69 | $75 |
| Table Rate Shipping | $29 | $50 |
WooCommerce extensions tend to more expensive than equivalent Jigoshop extensions (when available), but given the big range of WooCommerce extensions already out there, combined with some of the core functionality which must be purchased for Jigoshop, WooCommerce wins the overall extension category. Don't forget though that regardless of whether you chose Jigoshop or WooCommerce, you can always extend the platform yourself if you have the skills, or hire someone to do this, including us!
Try, Before you Buy
Following in the try before you buy theme, both Jigoshop and WooCommerce offer some form of previewing their various themes in action. Neither seems to have a complete suite of product types to interact with and play with unfortunately, however WooCommerce does offer what they call a playground where you can register an account and have access to a hosted, albeit limited, WordPress account with access to WooCommerce and all the themes. You can create products, test the checkout process, and generally go pretty nuts as long as it doesn't involve installing additional plugins, among a few other limitions. Cool! WooCommerce for the win.
Project Activity and Community Engagement
The following comparisons will cover project activity and community engagement. While not necessarily a direct measure of success, it stands to reason that a more active product, and more engaged community might result in a longer-lived, better product.
Major Release and Downloads
It seems fitting to write a comparison article so soon after major releases of both e-commerce options (alright, maybe not as soon as I would have liked, but these things take time). WooCommerce 1.4 was released on 2/1/2012 and Jigoshop 1.1 was released slightly less than two weeks later, on 2/13/2012. At the time of release Jigoshop celebrated an impressive 50,000 downloads, while WooCommerce reported an equally impressive 60,000 downloads (at time of writing, wordpress.org reports around 56k downloads for Jigoshop and 77k downloads for WooCommerce). Of course we should keep in mind that WooCommerce is a younger project than Jigoshop, so if we look at the average monthly downloads for the two since the project fork*, we find around 15k/month for WooCommerce, and 10k/month for Jigoshop. Side-by-side:
Jigoshop
WooCommerce
Version

1.1

1.4

Total Downloads

56k

77k

Downloads/month*

~10k

~15k

The Winner?
WooCommerce
To try and be fair to both, I did my best to estimate the downloads Jigoshop has accumulated since the release of WooCommerce, and use that date as the starting point. Also, note that Dan Thornton from Jigoshop makes the argument that WooCommerce releases smaller more frequent updates, which will result in higher apparent download numbers than Jigoshop which he says releases fewer but larger updates, which is a fair point.
Release Schedule
I date the forking of WooCommerce to the first GitHub commit on 8/9/2011. WooCommerce 1.0 was released the following month, on 9/27/2011, and has gone through 22 releases since. The first Jigoshop public release was 4/10/2011 and it had 8 releases prior to the WooCommerce fork, and 8 since. Both impressive release schedules, and Jigoshop gets bonus points for keeping it up even after losing some of their original developers early on, however WooCommerce still comes out ahead as most active. On the social engagement front, the GitHub WooCommerce project currently has 127 forks and 417 watchers, while the Jigoshop project has 76 forks and 219 watchers (don't worry if this statement doesn't mean anything to you, this is more for informational purposes as it doesn't necessarily measure active engagement), meaning that WooCommerce slightly edges Jigoshop out in this measure of engagement.
Jigoshop
WooCommerce
Releases

8

22

GitHub Forks

76

127

GitHub Watchers

219

417

The Winner?
WooCommerce
Forums and Support
WooCommerce has a public support forum, though they note that posts will generally not be answered by staff, as well as a 'member' forum for paying customers, which presumably is frequented by WooCommerce staff. The member forum seems quite active with nearly 15k posts, the public forum less so though it is younger. A valid complaint about WooCommerce in general is their propensity to wall off videos, articles and other documentation within the members area, which I can't understand the point of. In fact this almost caused me to pass over WooCommerce initially, but I managed to wind up with an account somehow or other prior to making a purchase sometime after signing up for a theme sandbox account and asking a support question (which was promptly answered, I should add).
The Jigoshop forum seems entirely open, and also seems quite active, though perhaps a bit quieter than the WooCommerce forum, unfortunately I couldn't see a total post count. I never had cause to request help from the Jigoshop support staff, but I'm sure they're great and give them the benefit of the doubt.
The winner? Lets call this one a draw.
Documentation
Though not a major factor, it is somewhat of a consideration. I actually found WooCommerce's documentation to be better prior to their documentation wiki introduced around the 1.4 release. WooCommerce's docs are still decent, but Jigoshop's documentation meanwhile has gotten steadily better since I first pursued it.
The winner? Chalk one up to Jigoshop.
Code
The Jigoshop codebase more closely resembles pre-1.4 WooCommerce, which isn't surprising. What this means is that the code is certainly decent, readable and extendable, but not nearly as well organized or extendable as the post-1.4 WooCommerce which I'm very fond of.
The End
I think this article is long enough that this final paragraph deserves that heading. If you made it through this far, congratulations, you win 100 internets! I don't think I even finished reading this. But seriously, hopefully the above, even if you skimmed and just looked at tables and screen-shots, left you with the ability to make an informed decision between WooCommerce and Jigoshop, and you can understand my statement at the beginning:
Just Use WooCommerce.
I know that over time this article will grow out of date, but I'll do my best to update the major points and features as things change. I wish all the best to you and your ecommerce project, and to both the Jigoshop and WooCommerce teams. Who knows, maybe next I'll compare WooCommerce and Jigoshop and Magento…