One you're working in a store with more than a single source of inventory or orders, ensuring accuracy among those orders, inventory counts, and fulfillment workflows grows exponentially more complex. We're very excited to release a new plugin that will help WooCommerce store owners leverage Infoplus Commerce for order fulfillment!
Infoplus is a cloud-based platform that lets you manage inventory, orders, warehouses, and shipping all from one dashboard. Infoplus Connect for WooCommerce provides a complete integration with Infoplus to automatically sync orders, product inventory, and tracking information between your WooCommerce store and Infoplus, helping you keep inventory accurate across several sales channels and manage order fulfillment for all orders in one place.
Using Infoplus
Infoplus helps merchants streamline order management processes while improving accuracy in order fulfillment. Whether you fulfill orders from one location or have inventory distributed across several warehouses, Infoplus helps you improve efficiency and scalability.
Merchants can determine how they'd like to identify items or products — bar code scanning, serial numbers, or other naming conventions — and use a cloud-based management system to track product inventory.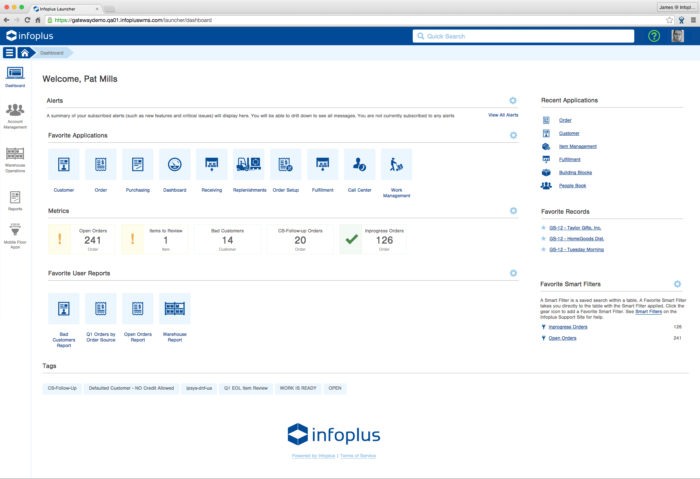 When orders come into Infoplus, the packing and shipping process is guided by pick, packing, and allocation behaviors you've outlined for your warehouse(s) in Infoplus to optimize your fulfillment workflow. This reduces human error in stock management and order fulfillment, improving your efficiency and keeping customers happy.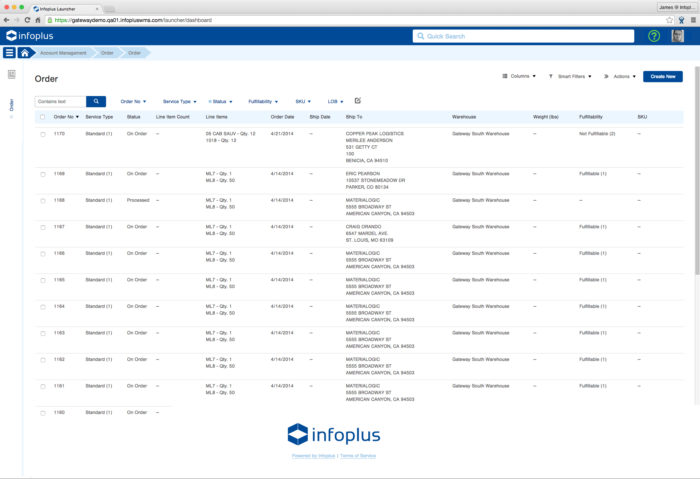 Infoplus works with over a dozen shipping providers to ensure you get the best rates for your shipments, and that you can easily print labels or comply with shipping regulations.
Order updates and tracking information are available in real-time, ensuring that you and your customers are aware of where product shipments are at any stage of the fulfillment process.
Connect to Infoplus
The WooCommerce Infoplus Connect extension brings the order fulfillment efficiency of Infoplus to WooCommerce stores, syncing your WooCommerce order system with Infoplus.
To get the plugin set up, you'll create a shopping cart connection within your Infoplus account, then connect this to your WooCommerce store with a couple of clicks.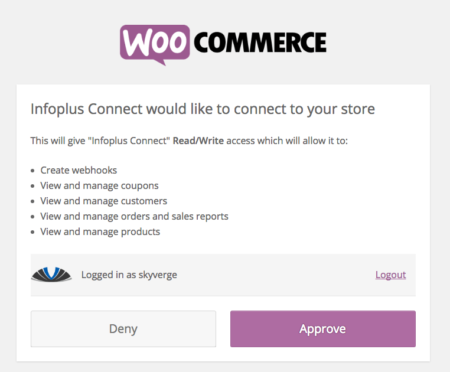 Once you've connected to Infoplus, you can opt to auto-complete orders based on Infoplus's shipping information, and you're ready to sync your products!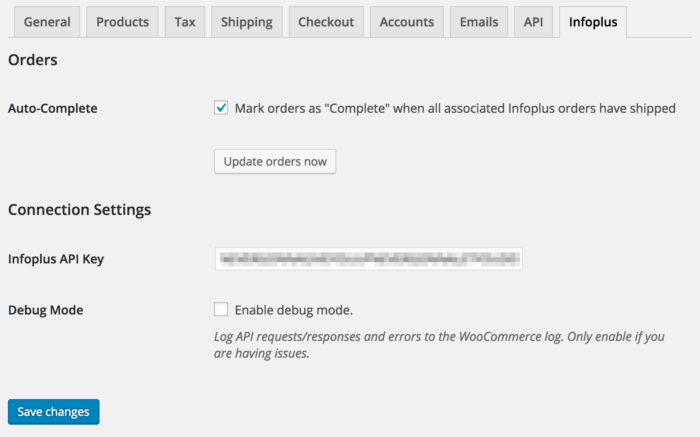 Product Sync
Managing your inventory in Infoplus lets Infoplus automatically update inventory as your orders are shipped. This simplifies your inventory management, and also makes it far more accurate if you manage multiple stores with the same inventory, or have inventory spread across different warehouses.
Infoplus Connect for WooCommmerce ensures that your product inventory levels are synced with Infoplus so long as you mark them as "Infoplus Managed", and your WooCommerce SKU matches the SKU created for the item in your Infoplus dashboard. You can even use bulk-actions to mark several products as "Infoplus managed" at once.
Once you've ensured your product SKUs match and you've enabled Infoplus management, your products are now synced up to your Infoplus account. When Infoplus inventory is updated, these changes will automatically be pushed to your connected WooCommerce store without any additional action required.
Automatic Order Submission
Managing order fulfillment and shipping is a necessity for many eCommerce stores, and using Infoplus for order management ensures that fulfillment is simple and, most importantly, accurate. When an order is paid for in WooCommerce, the products that are Infoplus-managed will be submitted to Infoplus automatically, creating an Infoplus record for the order.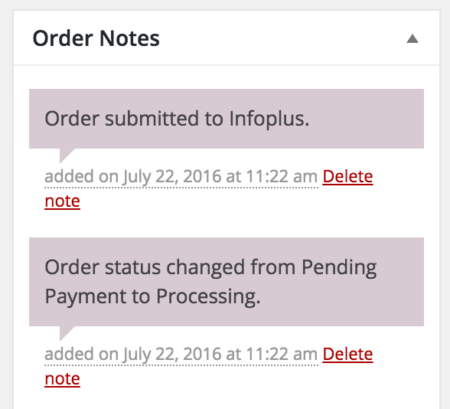 This will even happen for all orders marked "is paid" with WooCommerce Order Status Manager!
Once an order has been submitted to Infoplus, it will be "On Order" in your Infoplus account, and you'll see details for the Infoplus record in the "Edit Order" view.

From here, Infoplus will guide the picking and shipping process, optimizing the pick routes, packaging, and allocation behavior for your warehouse based on the rules you've configured in your account. Once your warehouse packs the order, Infoplus can print shipping labels and update the status and tracking formation for the shipment(s).
Easy Fulfillment and Shipment Tracking
As parcels ships from your Infoplus warehouse(s) for your orders, the status of these shipments and tracking information will be pushed back to WooCommerce automatically so that you and your customers can keep track of where shipments are and when they'll arrive.
In the "Edit Order" view, shop admins and managers will see updates in the "Infoplus Orders" metabox. A list of shipments, along with the carrier and tracking number, will be added as Infoplus sends items, and you can view tracking information with a single click.

Customers will also see shipment data from the account page and "completed order" emails. When a customer logs into the account and clicks "View Order", a Shipments list will be added to the order details page. This will show each shipment, along with its status, carrier information, and tracking number.
This allows customers to track a shipment with one click and quickly get an overview of all shipments for an order. All customers will be able to see this information from the "Order Completed" email, providing this information to guest customers who do not have an account.
WooCommerce Order Fulfillment with Infoplus
Infoplus Connect for WooCommerce helps merchants automate inventory tracking, optimize order fulfillment workflows, get competitive shipping rates, and improve warehouse management to streamline order management, especially for merchants who sell via multiple sales channels. Infoplus will also push shipment information and tracking data back to WooCommerce so that store managers and customers can quickly check on the status of shipments, ensuring that customers know where their order is at all times.
You can learn more about Infoplus, or check out the plugin page for additional details on this connector plugin. Ready to get set up? The plugin documentation shows you how to connect to Infoplus and provides additional details on the plugin usage and order management.