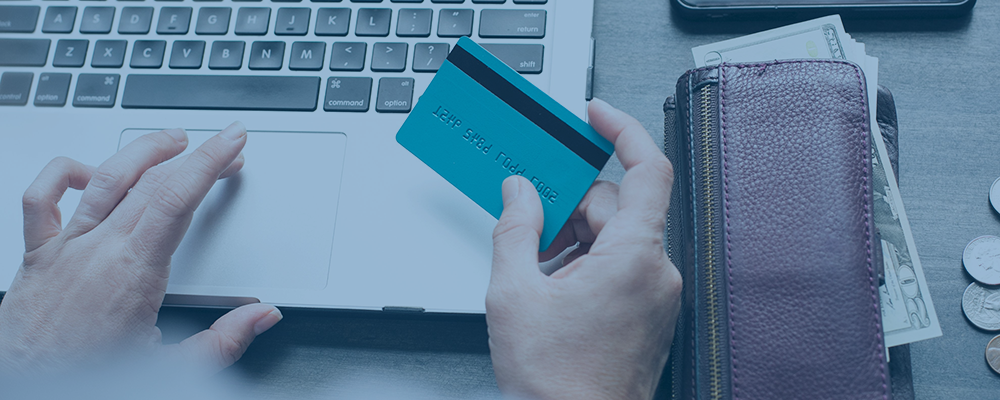 CyberSource merchants, rejoice! 🎉 We introduced an upgraded CyberSource version 2.0. With this new version, we're taking advantage of CyberSource's updated API to introduce new features and security improvements, and we've added support for eCheck processing.

We're also merging our CyberSource SOP plugin into version 2.0! Similar to the recent updates to our Authorize.Net plugins, this will eliminate the confusion over choosing a plugin and will simplify development, since there will be no duplicated code to maintain and update.

Let's dig into how current users can update to the new version and briefly introduce the exciting features and improvements that we're introducing with CyberSource 2.0!
How to upgrade
If you're currently using the WooCommerce CyberSource plugin, all you need to do is ensure your plugin is updated to version 2.0! 😀 Not sure how to update or having trouble with the update process? Click here to read WooCommerce's documentation on updating extensions.
If you're currently using the WooCommerce CyberSource SOP plugin, you'll soon see an update to that plugin, which will include a one-click migration to the WooCommerce CyberSource plugin. We're working with the WooCommerce.com team to add subscriptions for the WooCommerce CyberSource plugin to your account to match (and then replace) your current CyberSource SOP subscription. 
You can read about all the features of the CyberSource 2.0 gateway in our plugin documentation, but we'd like to specifically highlight a few exciting new features!
Seamless, beautiful checkout experience
First, let's talk about checkout: we've made this experience much better for your customers!
CyberSource now uses an enhanced payment form. This includes inline formatting and validation for credit card numbers, so the card type is shown as customers enter their payment details. The payment icons also use retina icons so they look great on any device.
The credit card inputs are mobile-friendly as well — they use tel inputs so that customers see a numeric keyboard when completing this form on mobile.
While these improvements make it easier for customers to share payment details, they don't always enter their information accurately — especially on mobile, where it's easy to mistype your credit card number. CyberSource now includes better handling of error messages for customers. If you enable detailed decline messages, a human-friendly message is shown to explain the error whenever a useful response code is provided by CyberSource.
Advanced payment capture tools
While some stores immediately charge transactions (transferring funds from the customer as soon as possible), some stores wait to capture payment until an order is shipped — typically to avoid processing refunds for cancelled orders, and to allow changes to the order.
While you could authorize a transaction for later capture in CyberSource, you could never capture that payment within WooCommerce. You can now capture prior authorizations directly in your WooCommerce admin. Even better, you can also capture charges in bulk for multiple orders at once. (Read more about payment captures here.)
For stores that sell digital goods as well as shippable goods, CyberSource can let you get the best of both worlds. You can authorize shippable transactions, but immediately charge virtual orders (to avoid later capturing them) — this ensures that orders without shippable items are processed immediately, providing access to downloads or memberships.
You'll notice that CyberSource also supports auto capture when you change the status of an order — this automatically captures transactions as an order moves to a paid order status. You can read more about auto-capture here.
Automatic refunds
You can now process refunds automatically from the WooCommerce Admin — no need to manage this via your CyberSource account!
To process a refund, open the order, click Refund, enter the amount you want to refund, and click Refund via CyberSource Credit Card. This will automatically process a refund for the specified amount, which will be sent to your customer via CyberSource.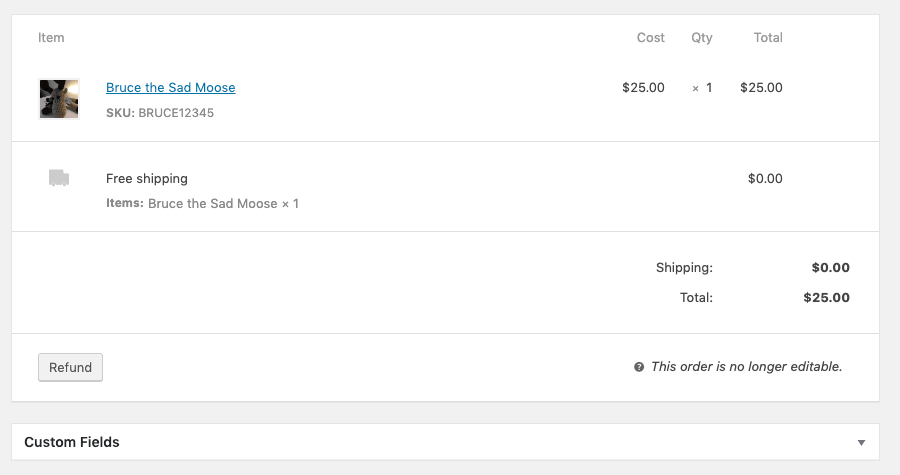 Saved cards: Subscriptions and Pre-Orders support
CyberSource 2.0 supports tokenization, which lets customers securely save their credit card for future purchases on your site. This also means that CyberSource 2.0 is now compatible with WooCommerce Subscriptions and WooCommerce Pre-Orders!
Note: To use tokenization with this plugin, you'll need to request a Token Management Server profile ID from your CyberSource representative. Once you have that ID, you can enter it in the plugin settings.
Customers can save their payment method to their account at checkout. Once they've saved a card, they can select it when placing new orders for quick and easy checkouts.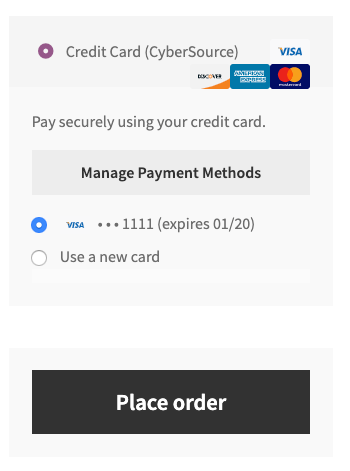 We've even made it easy for customers to identify and edit their saved payment methods. They can delete methods, mark one as the default, and add nicknames for saved cards from the account area. This is helpful to label personal and business cards.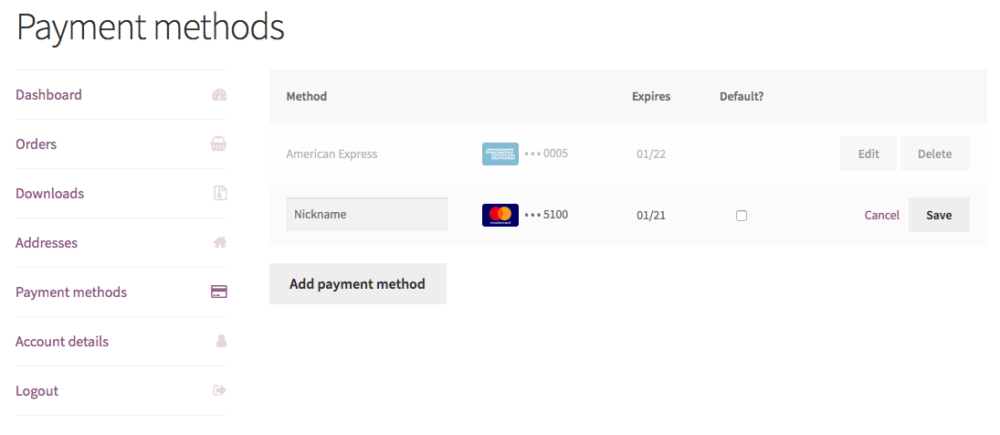 Of course any of these saved methods can easily be used with a subscription or pre-order. 💃
eCheck Support
Even more payment processing tools abound! An eCheck gateway has been added which allows you to let you accept eCheck payments for one-off purchases:
CyberSource eCheck does not support tokenization / Subscriptions, but can be used for any single order.
Security improvements
Another great improvement in the 2.0 version is the addition of Flex Microform, a hosted form field, which you can easily enable in the plugin settings to reduce your PCI-compliance burden.
When enabled, your customer's payment details are sent directly to CyberSource and won't touch your site's servers. This feature makes it easier than ever to meet SAQ A compliance levels! Best of all, the form is hosted on your site, so this has no impact on the customer experience at checkout.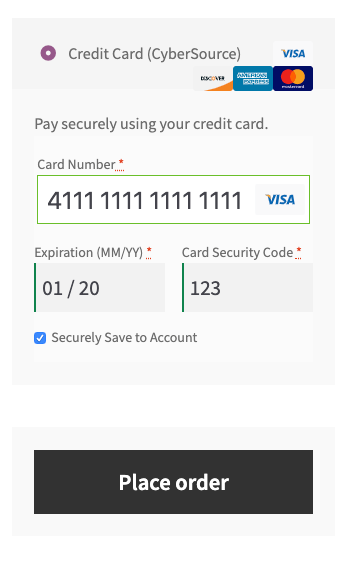 ---
We're excited to bring this improved experience to you and your customers! Have any questions about the upgrade process or the new plugin? Check out our updated documentation or reach out to our team with any questions.